Where Can I Travel In The UK By Canal Boat? – Our Guide!
If you are planning a canal holiday in the UK, you might be wondering just how far you can travel in the United Kingdom by boat? 
Well, the UK has an extensive canal travel network, with some going all the way up to Scotland. There are around 2200 miles of canal routes in the UK, the longest route you could do would be between Bristol and North Yorkshire, taking around 30 days.
Down below, we've made a short guide which will take you through the best canal routes in the UK, how far you could go each day on the canal, the benefits of a canal holiday as well as a few tips for your holiday on the canal.
Where Can I Travel In The UK By Canal? 
As we mentioned above, the UK is one of the only countries which still has a great canal network to have a canal boat holiday on, covering 2200 miles of canal in total. 
Taking a very long canal trip can be difficult since a lot of the networks are broken up due to hills and mountains, but you can still find some great canal boat travel routes which we will list below. 
Monmouthshire and Brecon Canal (36 miles) 
The Monmouthshire and Brecon canal is not one of the longest canal boat route trips but it is one of the most beautiful routes. 
Covering six locks, you pass through scenic small villages with plenty of hilly walks around, most of the canal boats are dog friendly too, and why not try a brewed Brecon beer while you are at it?
Kennet and Avon Canal (87 miles)
This is a great long-haul canal route to try if your route planning your holiday, starting at Bristol to London, one of the UK's most popular canal networks, and filled with lots of waterside pubs and restaurants on the way for a refreshing drink. 
We recommend taking this route nice and slow since it covers 105 locks, it's perfect for families.
Forth and Clyde Canal (34 miles)
A smaller canal route, passing through 39 locks and is a great choice if your looking at passing through Scotland's favourite Glasgow and want to pop into Edinburgh too, with 30 free lock miles.
Trent and Mersey Canal (93 miles)
This is the perfect canal boat holiday route if you're looking to spend the month of the summer on the water. Packed full of historic attractions and waterside pubs, you can't get bored.
How Far Can I Travel By A Canal Boat?
In a day, you can travel up to around 7 hours on a canal boat, however, you should take into account time off the boat as well as lunch breaks and night/day. The beauty of a rural canal holiday is that you take it slow. 
You will likely be able to move around 100 miles a week when travelling at 4 mph with a canal boat, which is what you are restricted to.
To calculate how far you will travel by your canal boat simply add the number of locks you will pass to the number of miles and divide by 4, locks take 15 minutes to pass through.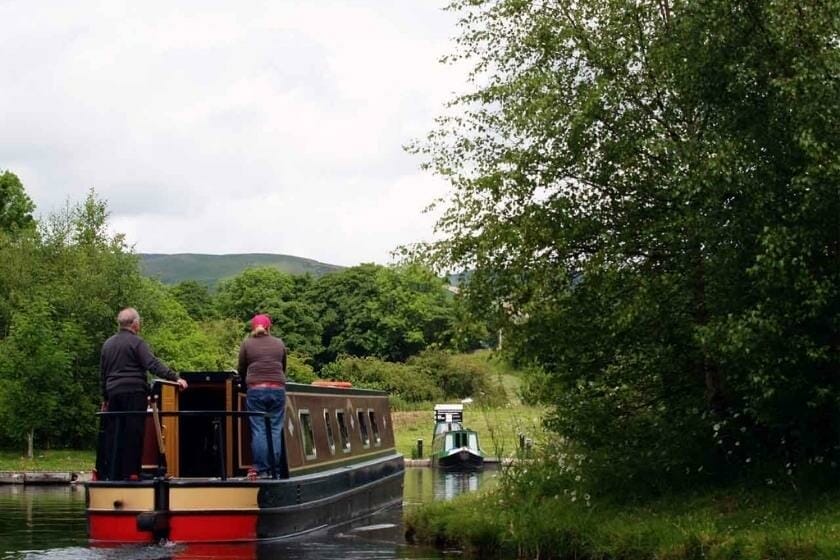 Why Take A Canal Trip In The UK?
A canal boating holiday can be a great way to enjoy your summer without having to fly abroad. 
We've listed some advantages to taking a canal holiday in the UK down below.
You never know what will happen – You truly never know what you will wake up to when you decided to take a canal holiday, theirs is a new adventure and place to explore every single day, you choose how fast and slow you go.
You pass through a variety of towns – Taking a new canal route allows you to pass through picturesque villages and houses.
Great for families – Canal holidays are excellent for families since they suit people of all ages, whether you want to get off the boat and go for a bike ride or lounge at a waterside restaurant.
It's COVID friendly – No last-minute cancellations or packed flights, having a canal holiday is reliable and safe during these uncertain times.
They are comfortable – These narrow boats are now made to be very comfortable, with stylish beds and seats, you will feel like you are in your floating hotel!
Tips For Taking A Canal Holiday In The UK
If it's your first time taking a canal holiday in the UK and you are looking to choose a long canal route, we've listed some tips for taking your first canal holiday down below to have the best time.
Pack light – Try not to overpack for your canal holiday, taking less than you need pays off since canal boats are already limited on space, plus you will pick up lots of souvenirs from towns anyway.
Pick the right time on hot days – Try to start moving early on hot days or late in the evening to avoid the sun heating the canal route and making your journey uncomfortable.
Learn horn signals – Horn signals are important on a canal boat, the signal to other people on the canal how you moving and which direction you are going in, these narrow boats can be very fragile, so avoid bumping them.
Start small – It might be worth trying a few shorter canal routes before taking a long canal holiday, this so as you can get the feel for canal boats and how it feels.
Last Words
To conclude, the canal networks in the UK are extensive, allowing you to take a boat holiday all the way up to Scotland, exploring villages, historic sites and scenic landscapes on the way. 
We recommend starting with some small routes first if it's your first canal holiday, then working your way up to long-distance trips, the furthest you can go on a narrow canal boat in the UK is between Bristol and London.