Our Guide To Travelling Without A Suit Garment Bag
Whether you're travelling for business or you are going to a wedding abroad, you might be wondering how to travel with your expensive suit if you don't have a garment bag and the space to hang one. 
Well, if you're travelling business class, there is normally a closet you can get to put the hanging bags, however, if you're in economy, there might not be room to hang your garment bag, therefore you might need to do the rolling method.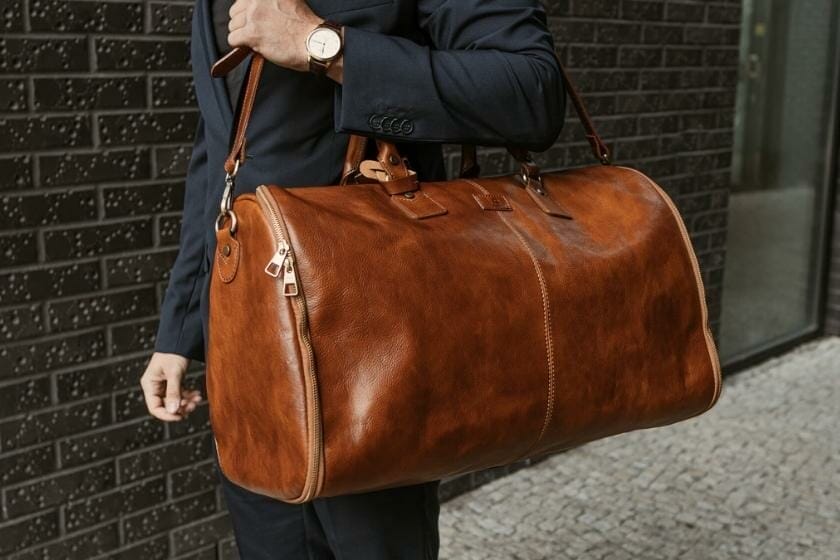 In our guide below, we've discussed how to pack your expensive suit, as well as some tips for travelling with a suit when flying.
Can I Bring A Suit As My Carry-On?
Yes, most airlines allow you to bring a suit in a garment bag as long as it's folded inside of your carry-on luggage.
If the suit does not fit into your hand luggage then you might have to use it as your personal item instead.
How To Pack Your Suit Without A Garment Bag
If you are travelling with a suit, putting it in your packed luggage might not be a viable option since it will get creased on the trip. 
We've listed a few different options on how to pack your suit down below to keep it in the best condition possible. 
Roll It Up 
One way to pack a suit is by rolling it up in your piece of luggage, we've listed how to do it down below. 
First of all, begin by steaming your suit then roll the edges up so they are taut. 
Tie the suit with a ribbon to keep it rolled then place it in your luggage one by one.
Pack It Well 
If you pack carefully then you might be able to get away with a suit in your regular suitcase. 
We've listed some steps to packing your suit down below. 
Pack your suitcase till full with your other clothing then take your suit and turn it inside out. 
Place the shoulder inside the jacket of the other one, and put your rolled socks into the shoulders of the suit.
Now fold your pants on the seam, put them inside of the suitcase with the bottoms over the jacket, and put your dress shirt on top with the sleeves folded.
Fold the pant legs back and pack.
Try A Hanging Bag
The best choice you have when packing your suit is to put it in a hanging garment bag, you can either hang it in your closet if you are flying business class or fold it up in the garment bag and put it in the overhead compartment.
Wear It
One way to keep your suit nice is by simply wearing it on shorter flights to keep it straight, you can ask the flight attendants if they can hang the jacket up.
Tips For Flying With A Suit
Travelling with a suit in traditional luggage can be harder than you think, but there are some hacks you can do to make your life easier when you get to your destination. 
We've listed a few down below.
Bring an iron – One way to ensure that you will be able to wear your suit crease-free is by bringing an iron in your checked luggage to your destination.
Invest in a steamer – A steamer is a great tool to have in your luggage in order to help you get rid of creases. You can pack one in your checked luggage.
Keep cuff links safe – Cuff links can be easy to lose when travelling, make sure to keep them safe by packing them in a box.
Hang it when you arrive – As soon as you arrive, hang your suit up to help it lose the creases, this is ideal if you don't have an iron.
Try to pack light – Suits can be very heavy, therefore if you are travelling with the one we suggest packing light and avoiding heavier items.
Frequently Asked Questions About Travelling With A Suit 
Can I hang a suit jacket on a plane? 
If there is space in the closets, flight attendants will be able to hang the jacket up in the closet.
Is there a place to hang a zipper suit garment bag on a plane?
Most business class compartments will have a place to hang suits, but in the economy, you might have to fold them up and put them in the overhead compartment.
Last Words
Overall, to travel on a flight with a suit and no garment bag, you can simply roll the suit or fold it correctly in your bag to try and help reduce creasing.
You might be able to take your suit on board in a garment bag and hang it up in a flight closet if there is room on the plane.