Is A Blanket Okay To Carry On A Plane? – Our Guide
Planes are known for getting very cold on board, and the last thing you want is to be uncomfortable on long plane rides when you are trying to sleep, so you might be wondering, can you bring your own blanket on board?
You can indeed bring your own blanket on a plane flight with no restrictions, however, the airline might count it as your personal item, if you want to avoid this you will have to make sure it fits in your carry-on luggage instead.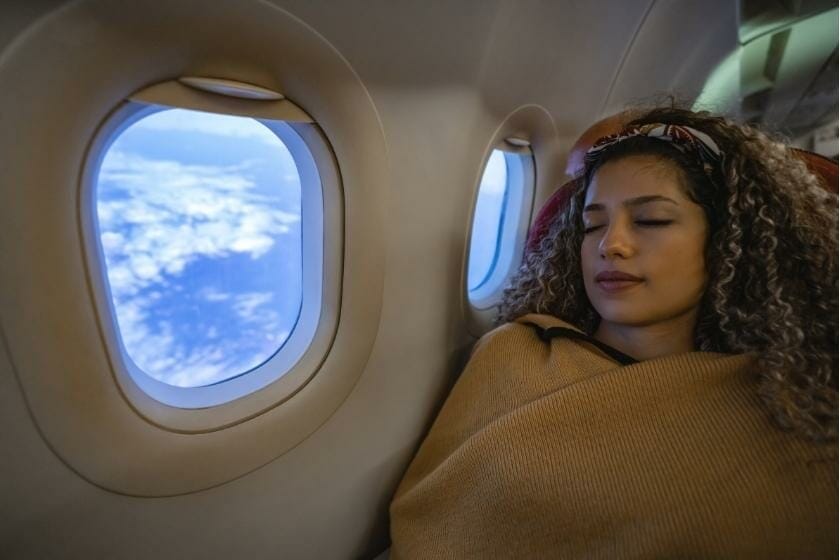 We've made a guide below which will take you through why blankets are useful on planes, what you can carry on, the best types and other items you can take on board.
Why Should You Take Your Own Blanket On A Plane? 
On most long-haul airlines you will get given a regular blanket on board for free, but what are the benefits of bringing your own perfect blanket on board?
We've listed some reasons why you might want to pack your perfect travel blanket below.
Essential on low-cost flights – Blankets are needed on low-cost flights since some airlines don't provide them if they are budget airlines. It can get very cold on flights so taking your own can be very helpful.
They are clean – Although it is airline policy to wash blankets after every time they are used it is not regulated, so you might end up with someone's used airline blankets. Bringing your own is much more hygienic.
Better quality – The typical airline blanket is not very high quality or warm, some don't fit people's heights and they are often very small. Taking your own blanket ensures it will be right for you.
There might not be any left – It's not uncommon that you might ask for a blanket on the plane and they all would have been taken, especially with budget cuts for flights.
What Are The Rules For Carrying On Items?
As we mentioned above, to take any kind of blanket on a plane, even a picnic blanket you must use it as your personal item which should fit under the seat in front of you or inside of your main carry-on bag. 
When travelling, you are typically allowed to bring on board a personal item like a purse or blanket, in this case, your main carry-on luggage and usually a blanket or a coat.
What Type Of Blanket Should I Bring On A Plane?
Unlike the typical airplane blanket, you can get creative with the kind of blanket you want to take on the plane, making sure it's right for you and to keep you comfortable during your flight. 
We've listed some pointers for choosing your in-flight blanket down below.
Choose a narrow and long blanket – The typical airline blanket is never long or narrow enough for the average person, if your picking a new blanket to take on the plane we would suggest searching for a long and narrow one, this will allow it to cover your feet but not disturb the other person.
Consider weight – A beautiful blanket can be very heavy, so be mindful about the weight and make sure the blanket for travel will not be uncomfortable to carry around.
Make sure it stands out – Choose a kind of blanket which stands out, this will help you to avoid getting confused if your blanket looks different from the others on board. You don't want to leave your throw blanket or weighted blankets on board by accident.
Ensure it's foldable – You can find some excellent compact soft travel blankets for your flight which fold up nicely into your carry-on so you can avoid using them as a personal item.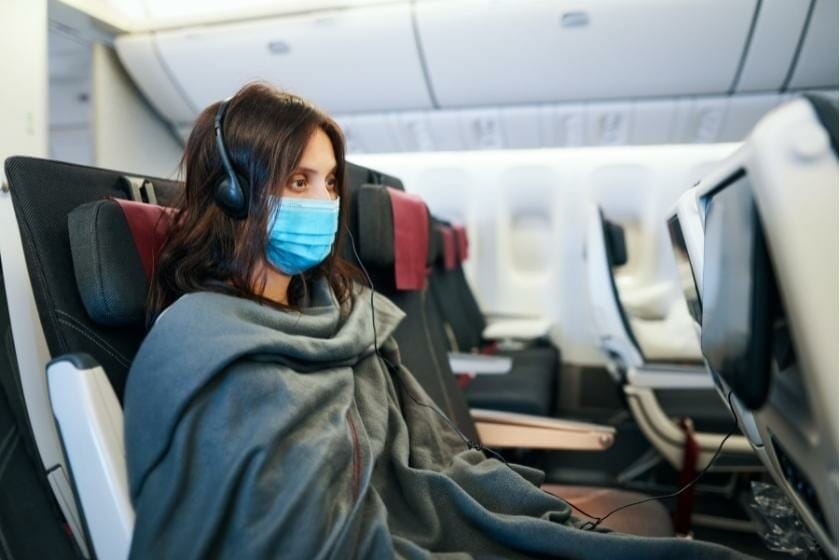 What Else Can I Take On A Plane For Free?
Since you can technically take a blanket on a plane for free by using it as your personal item or packing it into your carry-on, you might be wondering what else you can bring on board without having to pay extra.
We've listed some items down below. 
Layers of clothing – Some extra layers of clothing like a jumper, a few T-shirts and a hat can be brought on to a plane for free. Although don't go crazy with the layers otherwise airport security might have some questions.
A jacket – A jacket can be carried on board a plane for free, wearing it through the airport allows you to free up space in your carry on luggage too, you can even use it as a blanket if you get cold on board.
Camera bag – A camera bag can be strapped to your carry on luggage if you're sneaky and brought on for free, if you carry it separately they might class it as your personal item.
Neck pillow – Neck pillows can typically be strapped to a piece of luggage and brought on a plane without any issues, they are easy to pack on top of the luggage and shouldn't take up too much space.
Duty free – Nearly anything you buy duty free can be taken on board a plane, for alcohol you might find that you don't get it till you board the plane, however.
Hat – Wearing a hat on board is normally allowed when boarding a plane, although you might have to take it off when passing through security, this saves up lots of room in your hand luggage.
Umbrella – Umbrellas are fine to take on a plane with no issues as long as they are not too bulky and fit under the seat in front of you or your carry on, some budget airlines could potentially class this as a personal item.
Infant needs – Infant accessories can be brought on a plane unlimited, this can include a bag up to 5kg and even a stroller, contact your airline to see what's included.
Things brought at the airport – Anything purchased at the airport is fine to bring on a plane as long as it's in its container so that the airport can know what you're bringing on board. 
Books – Holding your book in your hand when boarding a plane is fine and you shouldn't have any issues with carrying it on board.
Medical equipment – Medical equipment is not restricted to a plane ride, things like canes and crutches can be taken on board without any issues with medical permission.
Frequently Asked Questions About Bringing Blankets On A Plane
What are the best blankets for travel? 
Any blanket for travellers which is compact and foldable is good for travel, a compact blanket can fit well in your hand luggage without any issues.
Do airports sell blankets?
Yes, you will often find blankets for sale at airports if you forget to bring yours on board then you can buy one, they do however cost a high amount of money.
What types of items are not allowed to be brought on a plane? 
Any blade over 7 inches, flammables, and explosives should not be taken onto a plane. They are restricted from your hand luggage entirely.
How much does a foldable blanket cost?
A foldable blanket can cost anything between £10 and £20, making them very affordable for a long-haul flight, expect to spend anything between £20 and above if you buy them from the airport.
Do airlines wash blankets? 
Airlines should wash blankets as per policy, however, this might not always be the case if they are in a rush. This is why taking your own blanket is better for hygiene.
How many item per passenger are you allowed?
You are allowed three items per passenger, a personal item, a carry-on bag and a jacket or hat for example.
Last Words
Overall, you can bring a blanket on a plane with no restrictions, just make sure that it is compact so you can use it as your personal item or within your carry on bag. 
Bringing a blanket on board a plane allows you to keep comfortable during your flight and is a good idea if you want to ensure your blanket is clean.