Our Guide To Stop Leather From Staining Clothes
If you've noticed some unsightly stains on your clothing, you might want to check your leather handbag to see if the leather bleeding has managed to stain your clothing.
If leather dye is coming off your bags or shoes and belts then you will likely need to reseal your leather piece to help stop it from bleeding and ruining your clothes.
Down below, we've composed an informational guide which will cover why leather dye can bleed, how to seal leather, how to get leather stains out of your clothes and some maintenance tips for taking care of your leather.
What Are The Different Types Of Leather?
To understand why leather can bleed onto your clothes and how to fix it we first need to understand what the different types of leather are.
Suede – This is the underside of animal skin and comes from removing the top grain to reveal the bottom layer. This is often found on some shoes and bags but isn't as durable as other leather types, it does not handle exposure to water well.
Full-grain leather – Full grain leather is very high quality and is also the most durable with the least processing. It's often used on bags and briefcases and can cope well with water.
Split grain leather – This is when the animal grain is split into two different layers, it's closest to the flesh and has a smooth finish. However, due to the finish, it isn't as durable.
Bridle leather – Made using cowhide and a tanning process, bridle leather is very high quality and is often expensive, you will find it used on equestrian products a lot.
Bonded leather – Bonded leather is very low grade and is often made from scraps of leather and fibres. You will often find this leather is used for not very visible products like book covers.
Why Does Leather Bleed?
If your leather furniture is bleeding or maybe your leather boots are staining your socks, you might be wondering why leather bleeds.
Leather bleeds when the colour has not been sealed properly, it can often happen in humid and moist conditions when the leather rubs on materials.
The dye can also seep onto clothes if leather items get very wet, causing the dye to run off.
How Do I Seal Leather?
If you've recently dyed your leather or maybe you're looking to reseal some leather items because the dyes have been running off, sealing leather is very easy.
We've listed some types of leather seals down below along with the process of how to seal a leather coat to help you out.
What Types Of Leather Seals Are There?
Before you decide to seal leather dye or reseal the dye it's a good idea to get to know the different types of leather seals out there.
We've listed some different types to choose from below.
Leather resolene – This leather seal has acrylic in it to protect leather furniture and items, you can apply multiple layers of this seal because it is thin, pick a colour close to the leather so it can blend well.
Carnanuba wax – Using this wax as a sealant is a great alternative to resolene and can also help to protect the leather from dirt. You can also formulate it with beeswax.
How To Seal A Leather Coat
What You Need
Dry cloth.
Leather balm or leather sealant.
Sponge.
Soft brush.
How To
Step one – First of all, make sure your leather materials are fully dry from the dye then apply some conditioner as an extra protector for the material.
Step two – Next take your leather sealant, give it a good shake and apply the suitable leather sealant onto a practice piece of the leather to make sure it's okay. Take your soft brush and rub it all over the material to seal it, don't forget small creases or edges.
Step three – Let the leather dye sealant dry in an airy room out of direct sunlight for at least 4 hours. You'll know when the leather treatment is dry because the leather will no longer feel tacky with your fingers.
Step four – Now buff out the leather sealant, you can always apply another layer if you wish.
How To Get Leather Stains Out Your Clothes
Finding out that your high-quality leather bags have stained your clothes or your soft leather belt has leaked on your white shirt can cause you to panic. 
But don't worry, there are some remedies for getting rid of leather stains on your clothes.
Try bleach – If you have a piece of white clothing with a leather dye stain you can always try soaking the piece of clothing in bleach to remove the stain, this will not work with coloured garments.
Use a stain remover – You can find some stain removers with excellent solutions for getting rid of dye. This works the best when stains are caught fresh and you allow the remover to sit for a few minutes then lightly scrub the area.
Use rit dye – You can find a cleaning solution called Rit Dye remover for white clothing and Rit Dye fixative for coloured clothing.
We've listed the steps for using this dye to get rid of leather stains down below.
Step one – First of all mix your required remover with some water to make a paste then spread it over the stain and leave it for a few minutes.
Step two – Take a soft scrubber and lightly scrub the stain then wash the garment to help take off excess dirt and dye.
Step three – Let the drying process be with air, don't put in the dryer in case you need to remove further stains.
Tips For Taking Care Of Leather
A great way to stop your leather from transferring its dye to your clothes is to keep maintaining it well so that the sealant can not wear off over time.
We've listed some essential tips for taking care of your leather below.
Use a leather protection spray – One of the first things you should do when buying fanciful leather jackets or leather boots is spray them with a protective spray to help seal the leather.
Don't let it get wet – Try not to get water on your leather, doing so can cause it to swell and discolour, if your leather boots or favourite leather handbag does get wet simply allow it to air dry, don't apply harsh heat.
Remove stains as soon as you can – If you stain your gorgeous leather handbag by accident simply remove the stain as soon as you can, do this with a damp cloth and some mild leather cleaning solution.
Keep them out of the sun – Direct sunlight is a common cause of cracks in the leather, it dries the material out fast and takes out moisture. This is why conditioning leather twice a year is so important to help it retain moisture.
Wash your jeans – New jeans can attract dye from leather easily and rub off, we recommend washing your new jeans at least once to help reduce this chance.
Avoid cosmetics leaking – Cosmetics leaking in leather bags can lead to the discolouration of leather items, we recommend storing them in a sealed separate bag to prevent this.
Frequently Asked Questions About Leather Staining Clothes
Can lemon juice helps get rid of leather stains?
Lemon juice and water can help to get rid of stains, soaking garments in this solution and leaving it to soak can remove stubborn stains which have formed over time, or you can simply dab a cloth in this solution to help lift dirt.
How do I get rid of a leather smell?
To remove a leather smell you can use a mixture of water and vinegar and dab it with a cloth.
How do I stop leather boots from losing their colour?
To stop leather boots from losing their colour we suggest re-dying them and using a protective sealant to help keep the colour. Other ways you can preserve the colour are by keeping the boots out of direct sunlight and conditioning them at least once or twice a year.
How often should I perform the conditioning of leather goods?
We recommend using a high-quality conditioner twice a year to keep this type of leather soft, rub it all over with a dry cloth and leave to dry, avoid over conditioning leather otherwise it can make the material sticky.
What can I use as a leather conditioner?
You can use coconut oil as a leather conditioner or beeswax to keep the leather soft, use sparingly however otherwise it can make the leather turn oily.
Can I clean the leather with warm water?
Yes, you can use soap and warm water to clean leather, make sure the soap does not have too many chemicals or alcohol which can dry leather out.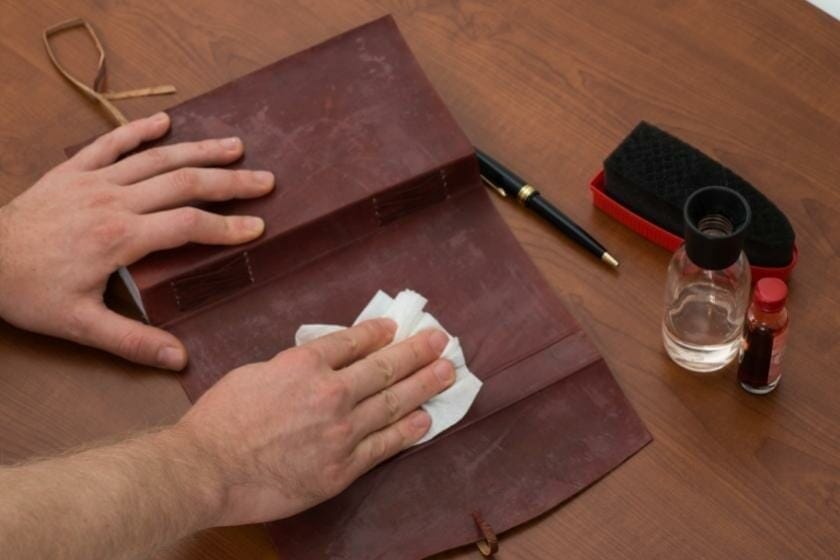 Last Words
Overall, to stop a leather bag from staining clothes we recommend re-sealing them to stop the dye from bleeding, you can do this with a high-quality leather sealant and a cloth.
Also, avoid storing your leather and wet and humid conditions since this can make bleeding more likely, leather should always be kept dry but conditioned in order to avoid cracks appearing.