Our Care Guide For Calfskin Leather Bags
Leather bags of high quality do not come cheap, so make sure you know how to take your certain kind of leather is very important in order to keep it in good condition.
To clean a calfskin leather bag you need to make sure you are using a soft bristle brush with only a little water, always condition your bag after cleaning to keep it soft.
We've composed an informative guide below which will take you through what calfskin leather is, how to clean and take care of your calfskin leather as well as how to take care and maintain other leather types.
What Is Calfskin Leather?
To understand how to care for and clean calfskin leather, we first need to know what type of leather this is and what part of the cow it comes from.
Calfskin is a light and smooth leather, it is the leather product from a young cow and has a very fine grain. You will often use this type of leather for products like shoes and gloves due to the high elasticity.
Which Is The Best Leather For Leather Bags?
Choosing the right kind of leather bag is important if you want to have a high-quality long-lasting handbag. Cowhide is one of the best leather types you can use for bags, but there are plenty of other options we will list below.
Lambskin leather – Also soft like cowhide, lambskin leather is very soft for leather bags. It's not as durable as cowhide however and can be torn easily.
Vegan leather – Vegan leather is becoming more popular for leather bags since it is more durable and often more affordable too.
Patch leather – This comes from cowhide but is made up of smaller pieces and is great for making bags due to its softness.
How To Clean & Take Care Of Calfskin Leather
If you have a calfskin leather bag, it probably costs a fair amount of money, to help keep your bag in good nick, we've gone into further detail about how to care for and clean calfskin leather bags below.
What You Need
A clean towel and damp cloth.
Leather cream. 
Filtered water. 
Cotton swabs. 
Baby shampoo. 
Spray bottle.
Method
First of all, start by getting your soft bristle brush and clean all areas of the designer leather handbag including the corners.
Next, mix your baby shampoo and water to make a mild solution for cleaning. Spray all over the glossy surface of the bag with a dry towel or damp cloth and use your cotton swabs to get to the corners. 
Lastly, grab your leather conditioner and rub it over the entire surface of the bag, this will help to keep it soft.
General Care Tips For Calfskin
Use Vaseline for scratches – If you've noticed that your leather pieces have accumulated some scratches then you can just use some Vaseline on them to help clear the scratches up
Keep conditioning regularly – Leather conditioner is essential for calfskin to keep it supple and should be done 2-4 times a year in order to keep it in good condition. You can use a spray conditioner to make the job easier or take a normal conditioner with a dry cloth and rub it all over.
Store it well – Store calfskin leather bags in a place which is out of direct sunlight, avoid covering the leather in an airtight place since it can trap moisture and humidity. A dust cloth on the bag would be ideal to keep debris off the material.
Avoid over stuffing – Over stuffing your calfskin leather bag can ruin the shape and cause the bag to stretch if you're not careful. Try to pack a limited amount in these small leather bags or choose a leather duffel bag which is more suitable for travelling.
How To Care For Other Types Of Leather
Some leather types require different cleaning and attention than others, for example, calfskin needs much more attention than regular cowhide in order to maintain its smooth and glossy finish.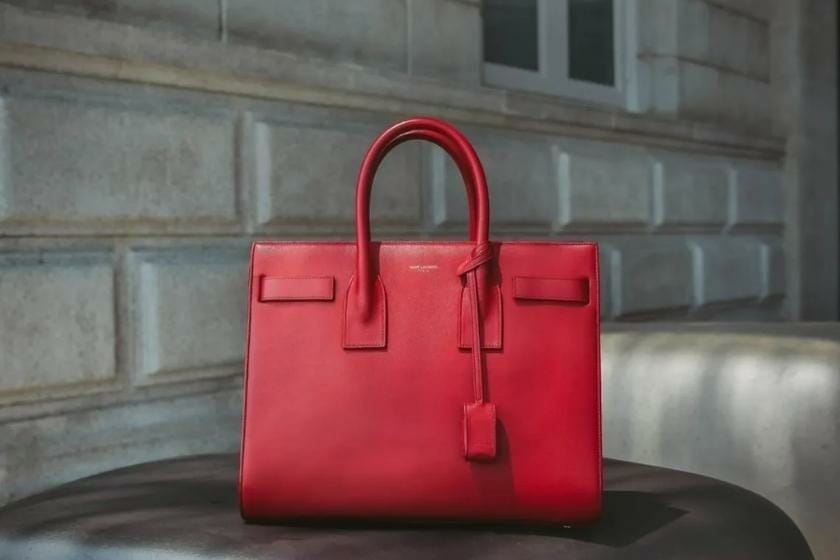 We've listed some other types of leather down below along with some care tips.
Patent Leather
The glossy finish of patent leather might look great, but it also requires a lot of attention to make sure it stays in good shape. To keep your patent leather looking well we suggest using a dry cloth with some glass cleaner and water and rubbing it over the leather.
Patent leather is very vulnerable to black stains however so we suggest using some nail varnish remover to take stains off as soon as possible. Always be mindful that patent leather gets colour transfer easily too, so avoid resting it on other coloured surfaces which could transfer easily.
Vegan Leather 
A great alternative to animal leather and is much more durable too as leather for bags since water and oil-based products don't damage the bag as much. 
Using a damp cloth we recommend wiping your bag down often to keep it clean then using baby oil to buff with a cloth and give it a protective layer. We suggest storing your bag out of direct sunlight and to avoid using heavy drying products on these bags to stop them from cracking.
Suede Leather
This textured leather makes a great designer leather handbag and is a beautiful material thanks to its soft touch. To take care of leather goods you should use a water-repelling protective spray and use a special suede eraser to get rid of any nasty stains.
Exotic Leather
Exotic leather needs regular maintenance like other kinds of leather, exotic animal leather especially needs to be conditioned often since it's a different kind of skin, when conditioning scaly animal leather especially you need to make sure you are going in the direction of the scales.
These bags should also be stored out of direct sunlight in a temperature-controlled environment.
Frequently Asked Questions About Calfskin Leather 
How much does a calfskin leather bag cost?
A calfskin leather bag can cost anything between £200-£1000 and above depending on the brand and materials used.
Is calfskin a full-grain leather?
Calfskin is a smooth fine grain leather compared to normal full grain leather, making it very flexible.
What leather cleaner should I use for calfskin?
You can use a simple concoction of warm water and mild soap to clean calfskin, make sure you dry with a clean cloth afterwards.
What are the pros and cons of faux leather bags?
The main advantages of fake leather bags are that they are affordable, durable and easy to clean, the negatives are that they are not genuine leather and can have a slightly different appearance.
Is excess water bad for cowhide leather bags?
Yes, excess water is bad for any kind of leather, it can cause the bag to swell and misshape, as well as discolor so avoid getting the leather wet when possible. You can always try a protective spray if you use your bag often in all weather conditions.
How do I keep leather supple?
To keep leather supple make sure it's stored away from harsh sunlight and condition it often to retain moisture.
Last Words
Overall, to clean calfskin we suggest using a thin bristle brush and some mild soap and water to clean the leather. For stains, you can use a special leather stain remover.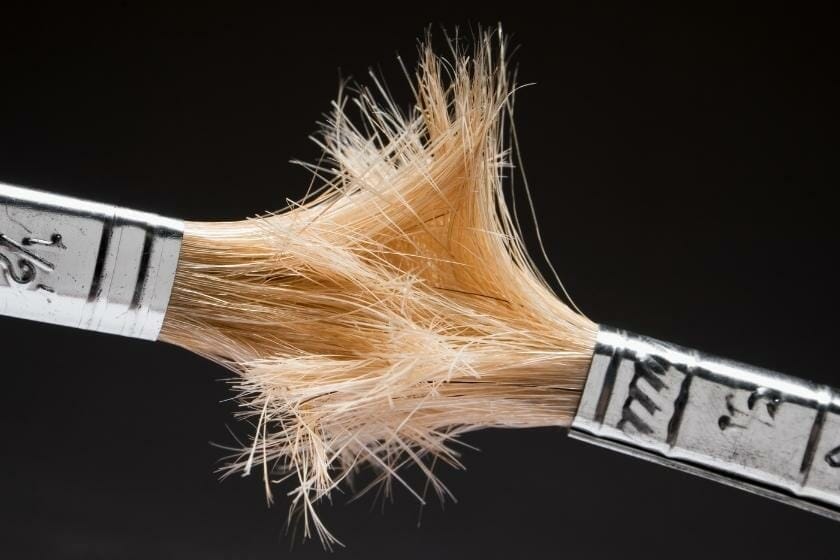 Make sure to condition the calfskin regularly too so it can remain supple since this younger skin can dry out quickly due to it being natural material.