Our Easy DIY Guide To Waterproofing Your Canvas Backpack
If you use your canvas backpack all year long, you want to make sure that your canvas bags are waterproof, so as the entire tote bag or backpack can not get wet and ruin the contents inside.
To waterproof a canvas backpack you can use waterproofing sprays, wax coats or alum powder and detergent, these can all be done DIY and will make your canvas backpack more durable.
We've put together a short guide down below which will discuss how to prepare your canvas backpack for waterproofing and different step-by-step methods on how to do it. 
How To Prepare Your Canvas Backpack For Waterproofing 
Before we make our canvas bags water-repelling, we first need to make sure that the canvas bags are prepared for the waterproofing project.
Clean the bag well – For the waterproofing process to be successful we need to make sure the bag is cleaned first. You can either wash it or use a lint roller to get the fluff out, we also recommend giving it a vacuum inside.
Keep it dry – Never try to waterproof a canvas backpack which is wet, instead ensure that the bag is dry. We also suggest doing the waterproofing in a place where there is air.
Waxing Your Canvas Backpack 
One of the first ways to try waterproofing canvas material is by giving it a wax coat, this is easy to do and doesn't need much equipment. 
We've listed how to do it down below.
Things You Need
Piece of wax-like beeswax or paraffin.
Cup of water.
Two pots. 
Brush. 
Hairdryer.
How To Do It
Start by putting a piece of your wax on the piece of a canvas bag and see how it affects the colour of the bag. You can simply rub it on the bag or melt the wax mixture and brush it on.
Next, make a double boiler with your two pots, stir, and then allow the wax to sit for a few minutes to cool down.
Use the brush to spread the wax onto the bag evenly in strokes, do your best to get into all corners of the bag. Avoid waxing on creases since it can give a discoloured look to the bag.
Use your hands to spread the wax onto the bag then a hair drier to finish it off, repeat as many layers as you want for durability. You can also do this on the inside if you want to waterproof the bag entirely.
Now dry the backpack, you can do this by putting it in a pillowcase then into the dryer or by hanging it up to air dry for a few days.
Re wax your backpack at least once a year to keep it waterproof and never wash it in hot water otherwise it can ruin the waterproofing. Use a special canvas cleaner to wash the backpack.
Alum Powder & Detergent Waterproofing Method
You can also wax your canvas backpack by using some standard detergent and alum powder from the grocery store. 
What You Need 
Two big containers. 
500g of laundry detergent.
250g of alum powder.
Four gallons of water.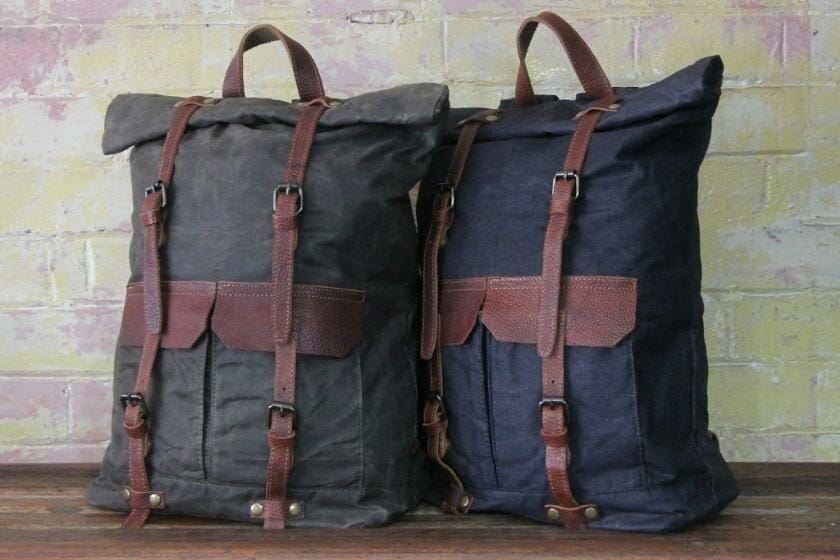 How To Do It
Begin by taking one of your containers and filling it with some detergent and water, submerge the canvas bag into the bucket and allow it to sit, and push it down so all the fabric can become saturated.
After 30 minutes take the bag out of the soapy mix and allow the bag to hang dry on the line. This might take about two days, you should avoid the waterproof canvas tote bag's sides touching otherwise they can stick together.
Take your other container and pour the alum powder in, followed by two gallons of water. Put the dry canvas bag into the mix and let it sit for two hours then hang on a dry line for a few hours until dry. 
Try not to wash the bag too often after using this previous method since it can ruin the waterproofing project.
Other Ways To Waterproof Your Canvas Backpack 
If you would rather not use an alum powder mixture or you are looking for other ways to make your tote bag waterproof we've listed two other methods you can try below. 
Commercial spray – Waterproofing spray from outdoor shops can work to help keep your canvas backpack water sealed, you might need to apply a few layers and allow the bag to dry before taking it out in wet conditions, but it is one of the simplest ways to make your bag watertight.
Try soybeans – Although a more complicated method, you can try turpentine and soybean oil to waterproof your backpack, you should note that this mix can alter the colour of your bag, however.
Frequently Asked Questions About Waterproofing A Canvas Backpack
Is canvas a durable material for backpacks? 
Canvas is a very durable material for backpacks and can withstand a huge amount of wear and tear over time as long as it's well maintained, this is why waterproofing can go a long way with canvas bags since it offers more protection.
How long will a bag stay waterproofed from wax?
You can expect your bag to stay waterproofed for about a year or two years, however, the wax coat can wear off over time if you wash it often or if the bag is exposed to harsh sunlight.
Can beeswax make my bag waterproof?
Yes, beeswax can be used with water to make your bag or any canvas material waterproof, it will wear off over time when exposed to heat however so dry it carefully.
Last Words
To conclude, waterproofing a canvas backpack is easier than you think, you can use either wax or detergent and alum powder for the job.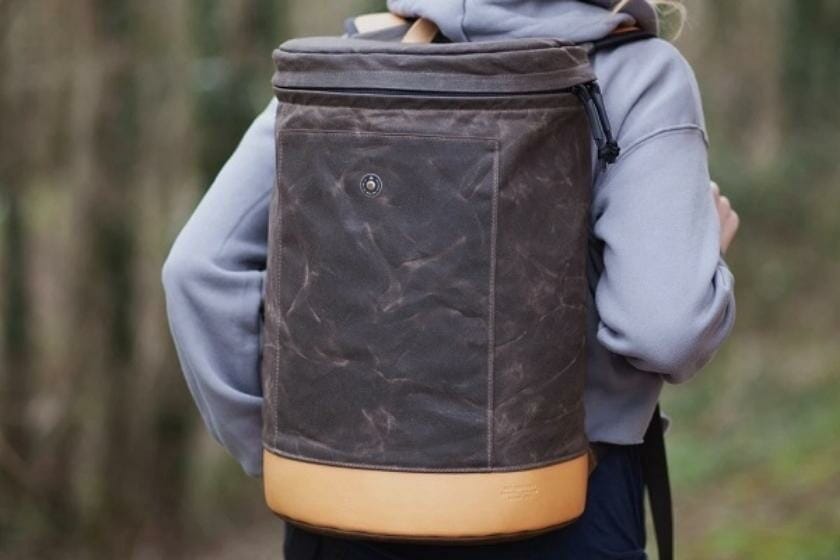 Alternatively, if you don't feel like getting your hands messy you can simply just use a few coats of a waterproof spray for the job which will help to protect it from the elements.